#60 American Race Truck Series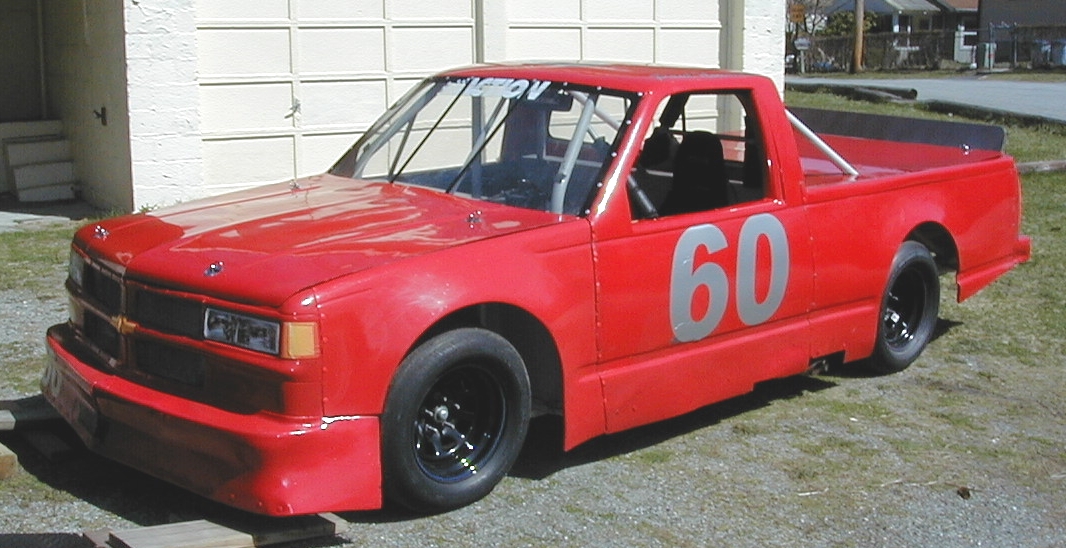 Driver: Paul Newman
Crew Chief: Joe Santacroce
About the truck
Current News
About the series
Where you can see the #60
Photos
| | |
| --- | --- |
| Body: | 1998 Chevy C15 |
| Chassis: | Race prepared 108" wheelbase GM Metric Frame |
| Engine: | 305 cu. in. Chevy |
| Fuel: | Power-Mist Racing Fuel |
| Carb: | Holley 500cfm two barrel |
| Transmission: | GM Turbo 360 (manual shifting) |
| Manifold: | Edelbrock Performer RPM |
| Rear End: | GM 10 bolt (7.5") |
| Weight: | 2750 lbs. including driver |
| Tires: | Goodyear Racing Eagles |
Current News:
CHECK BACK FOR UPDATES!!!!!!

About the series:
The American Race Truck series has eight regions (Dixie, Florida, Lone Star, Mid-Atlantic, Midwest, Mountain States, Northeast, Southwest) and several National events with drivers from around the country. The rules are set on a national level with many "non-factory" performance parts dis-sallowed to help level the playing field. All trucks are designed to compete on asphalt tracks from 1/4 to 3/4 mile in length. All safety equipment (roll cage, fuel cell, 5-point safety harness, window net, etc.) are required and inspected prior to each race. The body is composed of fiberglass body panels which are easily replaced or repaired. The chassis includes the standard components (racing coil springs, wedge jack bolts, etc.) much like seen on Winston Cup cars to allow chassis setup for each race track and conditions.
Where you can see the #60 race:
*Please check this schedule for changes and be aware that weather and other conditions may force changes.
| | | |
| --- | --- | --- |
| Date | Track | Location |
| June 17 | Kauneonga Speedway | White Lake (Monticello), NY |
| June 24 | Riverside Speedway | Groveton, NH |
| July 1 | Flemington Speedway | Flemington, NJ |
| July 8 | Pocono Mountain Speedway | St. Johns, PA |
| July 15 | Kauneonga Speedway | White Lake (Monticello), NY |
| July 29 | South Boston Speedway | Capron, VA |
| July 30 | Waterford Speedbowl | Waterford, CT |
| August 5 | Flemington Speedway | Flemington, NJ |
| August 12 | Pocono Mountain Speedway | St. Johns, PA |
| August 19 | Kauneonga Speedway | White Lake (Monticello), NY |
| August 27 | Waterford Speedbowl | Waterford, CT |
| Check back for September Schedule | Including National Event Sept 2!!! | |
| Check back for October Schedule | | |
| Check back for November Schedule | | |
Last updated on Sunday, June 13, 2000
© Copyright 2000 Paul Newman