Paramount Network Systems
This webpage is all about my experience with a GE Washer. Model: GTWP1000M1WW. Serial No:ZV189288G.
I purchased a few weeks ago a GE Washer from Lowes. I asked at Lowes for a washer that:
Did the same size load of clothes
Rinse thoroughly the clothes of detergent
That had three temp controls
They sold me a GE 3.3 cu ft. washer. I noticed the washer did not fill completly with water. Only about 14" up. Also the rinse cycle fills even less and the cycle only runs for a few seconds. I called the GE Answerline and was told this was normal. This washer does a poor job of washing and an even worse job of rinsing. Please Take Note: This GE Washer will NEVER rinse all the detergent off your clothes! I get rashes when wearing clothes that the (any brand) detergent is not completly rinsed off. This is a major problem for myself. See the picture below:
Please be aware as well that this 3.3 cu ft. washer will not wash as much as an older 3.0 cu. ft. washer because it does not fill completly with water. Have been told this is because newer washers (at least from GE or Hotpoint) are "Energy efficient" and so do not fill with water. RINSE CYCLE
It fills the drum with only a few inches of water, then agitates for 3-12 (always diferent) seconds and then drains. That is the rinse cycle. THIS IS NORMAL FOR THIS WASHER! The clothes in four times of watching it, never get dispersed because of the lack of water during the rinse cycle so the clohtes at the top of the drum do not seem to be rinsed at all. THIS TEXT TO BE COMPLETED LATER!!! Here is a picture of some water in a bucket. For the past couple of weeks I was rinsing my clothes in the utility sink in the garage. The other day I noticed the water coming off the clothes was definitly not clear. In order to give an idea I took a few of the clothes (2 underwear & socks) and rinsed them in a bucket of clean, clear water. This picture is the water after rinsing. Should not the water have still been clear if the washing machine did its job in the rinse cycle?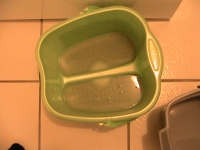 Here below is a video of the Rinse Cycle. Notice the water NEVER covers the clothes. Even though this is not a Full load of clothes.

I will update this page as I have more information to post.




---
GE Washer

Copyright © 2017 Paramount Network Systems All rights reserved
Website designed and maintained by Paramount Network Systems

Links
Guide to
Starting Your Own Web Site
.