Trivia Junk Web-based Game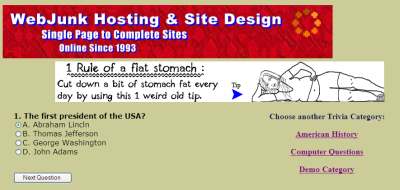 Version 1.20 of Trivia Junk has been released! Trivia Junk allows you to add a Trivia game to your website. You can customize the questions and categories to whatever you want. It also has built-in support for Google Adsense. You only need to enter your own Google Adsense Client ID and start earning money! You can display your own website's banner on the top of the page or just text if you do not have a banner. You can also customize the Result text at the end of scoring.
We offer this application for only $10 self-install. If you would like us to install for you then just $20. After purchase you will be sent by E-mail a link to download, good for 48 hours. Have any questions feel free to Contact us today for more information.
To Purchase Trivia Junk for $10 and Install yourself:
---
To Purchase Trivia Junk for $20 and have us Install (Email us Username, Password and domain):